The London Goth Meetup Group and the Vampire Connexion present:
An 'Alternative Bring 'n' Buy Sale'. Whether you want to make a bit of cash for upcoming festivals, or find yourself a bargain or ten, why not come down to our Alternative Bring n Buy Sale - for all things goth, punk, fetish, cyber and whatever else is up for grabs! From clothes to CD's, jewellery, crafts, furnishings - all sellers are welcome.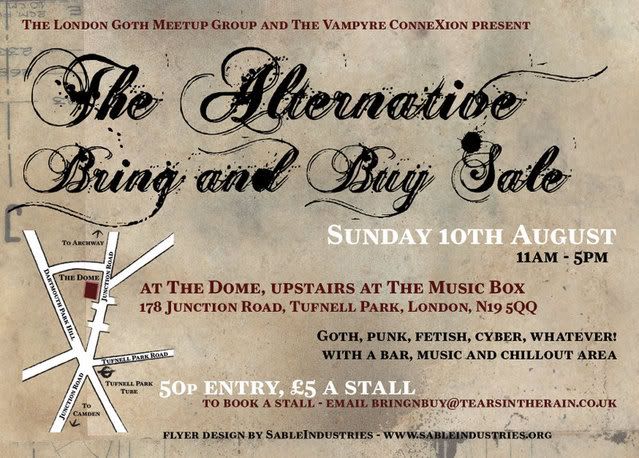 Date = Sunday 10th August,
Time = 11am-5pm
Location = upstairs at The Music Box ('The Dome') in Tufnell Park (N19 5QQ)
map/webpage: http://www.viewlondon.co.uk/clubs/the-dome-maps-18126.html
If you'd like a stall, please email Steph or Jules at bringnbuy@tearsintherain.co.uk - stating what you're selling, and what type of stall you'd like. The stalls are as follows:
- Large Stall (size of 2 tables) £10 (only two available)
- Table stall £5 (tables are provided)
- Clothing rail space £5 (PLEASE NOTE YOU HAVE TO PROVIDE YOUR OWN RAIL)
- Table + rail space £7.50 (again, BYO rail, limited numbers of space for this combination)
We also have a few tables perfect for Tarot/Palmistry readings, and would love it if someone would like to have such a stall :)
Otherwise, entry is a mere 50p - buyer or seller we hope to see you there!